"AED ( Automated External Defibrillator ) Merupakan alat stimulasi detak jantung portable yang berfungsi untuk mengembalikan irama detak jantung kembali normal melalui sengatan listrik bertegangan tinggi."
Serangan jantung mendadak akan sangat berbahaya jika tidak ditangani dengan cepat dan dapat menyebabkan kematian, karena kurangnya suplai darah keseluruh organ tubuh. Maka diciptakannya alat AED portable ini, AED akan memeriksa irama jantung korban melalui pads yang ditempelkan di pasien , dan akan memberitahu apakah defibrilasi diperlukan. pada AED Defibrilaor Saver One D memiliki layar 5.7″ inch TFT color display dapat memudahkan melihat informasi EKG pasien dalam bentuk grafik, dan pada AED Defibrilator Saver One D dilengkapi pelatihan CPR dengan intruksi sebuah suara serta gambar. Pada AED Defibrilator Saver One D dapat digunakan pada orang dewasa dan anak anak dan terdapat pads untuk dewasa dan anak anak.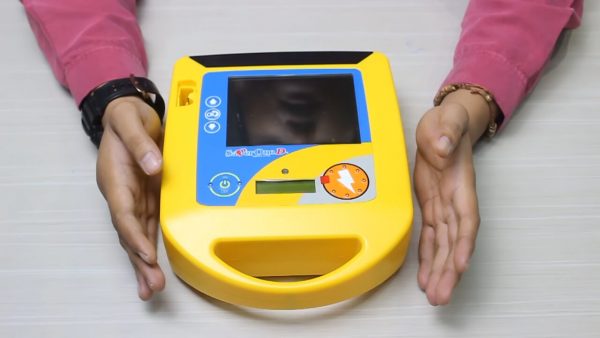 Unit AED Defibrilator Saver One D.
Pads AED
Sticker panduan cara menggunakan AED
DVD user manual
Buku user manual
Baterai
Specification
Specification
Defibrilator
Operation: AED Semi-Automatic, ECG Monitoring capability
Energy: Standard max 200J or Power max 360J
Waveform: Adaptive BTE ( Biphasic Truncated Exponential ) Conforming to patient chest's impedance
Energy type: Escalating from 50 to 360J
Protocols: Various adult shock protocols available on request
Factory default: Adult Standard escalating 150, 200, 200J |Adult Power escalting 200, 250, 360J | Pediatric ( Standard or Power ) 50J fixed
Charging time: ≤ 9 seconds with a new and fully charged battery. Depleted battery will result in a large charging time
Analysis time: EN 60601, from 4 to 15 seconds
Impedance: 20-200 ohms
Sensitivity: EN 60602-2-4 ( AHADB, MITDB source ), 97%
Specificity: EN 60602-2-4 ( AHADB, MITDB source ), 99%
Controls: On / Off, Shock button, touch to surf the menu. Status LED indicator informing on device condition. Battery gauge with remaining capacity rate. Audible alerts and text display with service alarms
Upgradeable: Can be upgrade in the field through a USB cable or a removable card whenever protocols change
ECG Monitoring
Operation: Through defibrillator pads or standard ECG electrodes attached to a separate 2-Lead patient monitoring reusable cable SAV-C0017
ECG Size: Automatic gain controlled by the display
Heart Rate: 30 – 300 bpm
Sweep Speed: 25mm/sec
Battery Options
Type: Li-SOCI2 Disposible, Code SAV-C0903
Autonomy: 250 complete rescue cycles ( Shocks at 200J and CPR ) or 160 complete rescue cycles ( Shocks at 360J and CPR ) or 24 hours ECG Monitoring for a new fully charged battery () Shelf – Life: 8 years when stored in its original packing ()
Standby – Life: 5 years once installed to AED, assuming one battery insertion test and daily self – tests but without switching AED on () Type: Li-ion Accumulator ( rechargeable ), code SAV – C0011 Recharging time: 2,5 hours with the charger station code SAV – C0014 ()
Autonomy: 200 shocks at 200J or 110 shocks at 360J or 14 hours in ECG Monitoring for a new fully charged battery () Shelf – Life: 2,5 years or 300 charging cycles ()
Pads Options
Type: Disposable, pre – gelled and self adhesive
Adult: Preconnected code SAV – C0846 for patient >8 years or >25 Kg 81 cm² conductive surface
Pediatric: Code SAV – C0016 for patient from 1 to 8 years old or < 25 Kg 31 cm² conductive surface
Cable Lenght: 120 cm
Shelf – Life: 30 months
Event Recording
Internal memory: 1Gbit ( 128 MB )
Memory capacity: 6 hours of audio, ECG and Event
Optional memory: Removable SD card Length of storage depends on card capacity a 2GB card records up to 100 hours
Data recording: "AED1LOG" text file with detailed self – test activity | "AEDFILES" with complete recorded events
Event review: " Saver View xpert" data management software
Physical
Size: 26.5 x 21,5 x 7,5 cm
Weight: 1,95 Kg with disposable battery | 2,10 Kg with rechargeable battery
Enviromental
Operating temperature: 0° C to 55° C
Storing / Shipping temperature: -35° C to 60° C ( without battery )
Humidity: 0% to 95% relative humidity non – condensing
Sealing ( IP Protection ): IEC 60529 class IP54; slash proof, dust protected
Shock / Drop Abuse Endurance: IEC / EN 60601-1 clause 21; 1 meter drop, impact, force, rough handling, mobile tolerance
Electrostatic Discharge: EN 61000-4-2
Electromagnetic Compatibility: EN 60601-1-2; Emission, Immunity
Electrical Protection: EN 60601-1 class I type BF / CF
EC Directive: Class IIb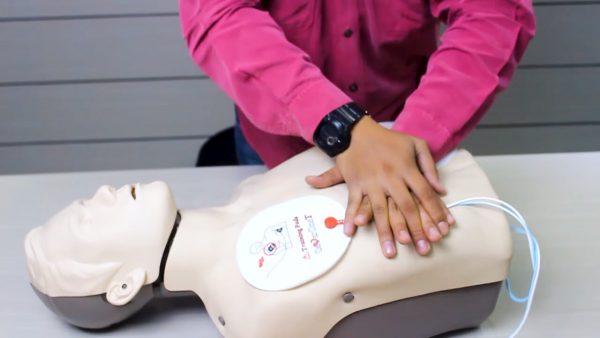 Pada dasarnya cara kerja AED defibrilator ini adalah untuk memberikan stimulasi energi listrik dalam satuan joule yang dihasilkan dari unit AED, biasanya AED disediakan di tempat – tempat umum dan dapat digunakan oleh petugas atau seseorang yang sudah terlatih. Berikut instruksi dari AED defibrilator :
Pertama ialah pasang pads pada dada pasien.
Selanjutnya akan di perintahkan agar menjauhi pasien dan jangan sampai kontak fisik dengan pasien.
Tekan tombol "shock".
Setelah itu periksa denyut nadi pasien.
Jika tidak ada detak jantung maka selanjutnya lakukan CPR.
Untuk lebih jelasnya dibawah disertakan video yang menjelaskan cara menggunakan AED Defibrilator SaverOne D